Kunming Railway Station Guides
Opened in 1970, and finished renovation on Dec 28 2004, Kunming Railway Station (Chinese name 昆明火车站, Kunming Zhan) is located in Guandu district, 3.5m south of Kunming urban center. It is a first-class station that covers 25,000 square metre, and has 9 platforms and 14 railway tracks. Kunming Railway Station combines both ordinary passenger train station (denoted with letter Z/T/K) and high-speed train station(D series) that mainly serving 48 bullet trains to main cities in Yunnan Province per day, including Kunming to Lijiang, Kunming to Dali High-Speed Railway.
Kunming Railway Station has 3 floors. departures are on 2F. Entrance, platforms and ticket offices are on 1F, arrivals are on B1
| | |
| --- | --- |
| 2F Level | Departures Hall ( Waiting room and boarding gates (Ticket Check) |
| 1F Level | Platforms, north Entrance, Security check, Ticket offices, VIP lounge. The entrances on South Square are not operated until metro line 2 station is finished in 2021. |
| B1 Level | Arrivals, the underground passage links the exits and North Square. The shuttle bus 199 connects Norh Square and South Square. The metro line 1 station is on South Square. |
Map and Location
Address: 1 Beijing Road, Guandu District, Kunming, Yunan Province, China
There are two major railway stations in Kunming, Kunming Railway Station and Kunming South Railway Station.
Kunming Railway Station is located in Guandu District, 3.5km south of downtown of Kunming.
Kunming South Station is located in Chenggong District, 29km southeast of downtown of Kunming.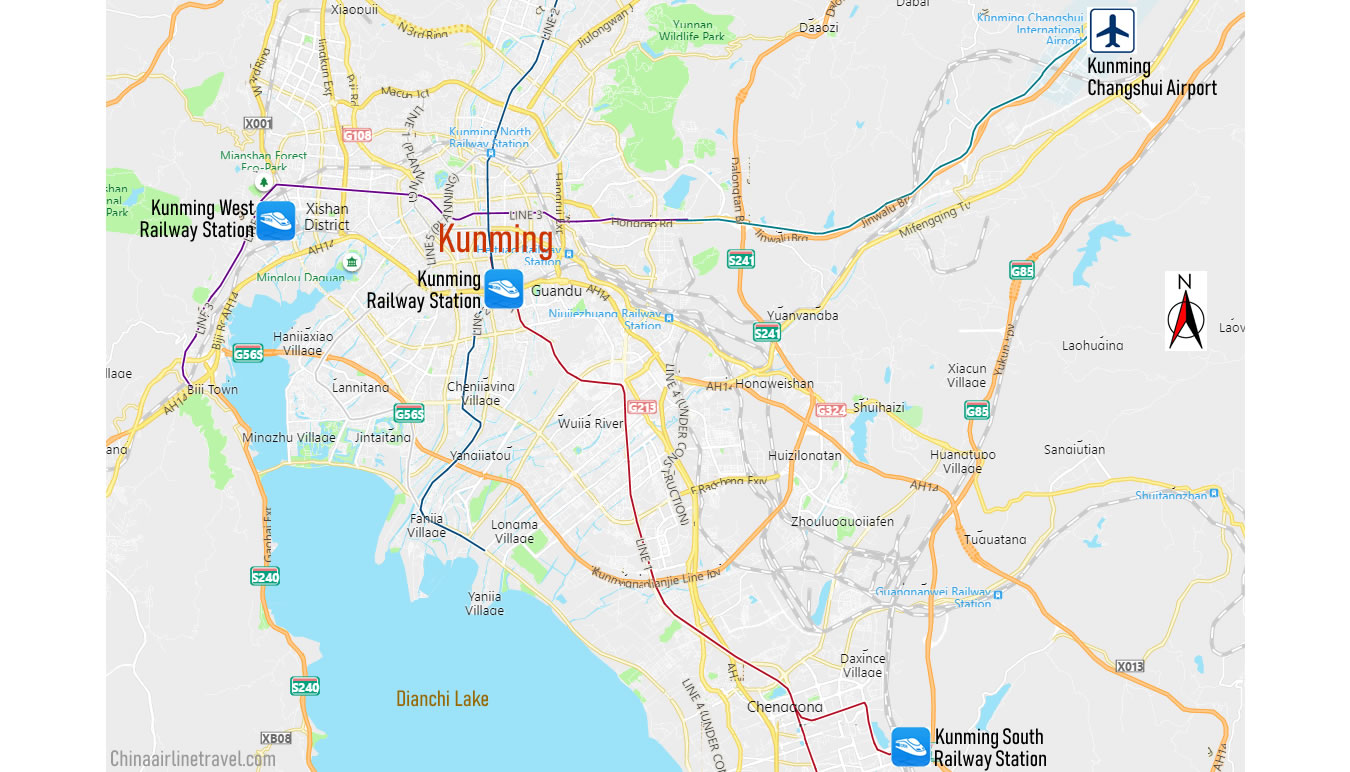 Public Transportation
The public transports are included metro line1, city bus, Taxi. Taxi is mostly recommended. How to get to Kunming Railway Station?
Taxi
Because Kunming Railway Station is just 3.5km from downtown, Taxi is one convenient and fast way to get to or leave Kunming Railway Station.
Taxi drop-off area: The north entrance on 1F
Taxi pick-up area: exit gates on B1
The one way fare from Kunming Railway Station to downtown is around RMB10, around 8 minutes.
Taxi Fee Standard (the fuel surcharge is 1RMB one way)
| | Day(6:00~23:00) | Night (23:00~6:00) |
| --- | --- | --- |
| 0~3 km | RMB8 | RMB10 |
| 2km - 10km | RMB1.8 per km | RMB2.2 per km |
| Above 10km | RMB2.7 per km | RMB3.3 per km |
Metro
Although Kunming Railway station is served by Line 1 of the Kunming Metro, the exit of metro station is on south Square where railway station entrances are not operated yet, and the distance from metro station to the entrance on North Square is around 1km and it takes around 10 minutes by walking.
But the passenger can take shuttle bus No.199 from South Square to North Square. Its operation hours are: 08:00 - 19:00. Ticket price is RMB2 per person / one way.
The first metro train is at 06:50 and the last is at 22:40
The metro line 2 will come in 2021 which station is on B2 of Kunming Railway Station.

Bus
There are 35 bus routes to or pass Kunming Railway Station on North Square and South Square
How to get to Kunming Airport(KMG)
Kunming Changshui International Airport(KMG) is located 27km northeast of Kunming Railway Station. How to get to Kunming airport? Please click on here for details.

Departures
Step 1: Get to north entrance of Kunming Railway Station by Taxi or Car. If you take Metro line 1 to South Square, please transfer shuttle bus 199 to North Square.
Step 2: At entrance, go through Security Check and real-name ID check to enter departure Hall by showing passport.
Step 3: Find the Boarding Gate (Ticket Check Gate). The gate No. will be in the confirmation email we send to you.
Step 4: Have a seat near the gate to wait for check-in and boarding. The boarding gate will be opened 20 - 15 minutes prior to the departure time.
Step 5: Ticket check. Please show your passport and confirmation No. to station staff to check in. The boarding gate will be closed 5 minutes before the train departs
Step 6: Find the platform of your train.
Step 7: Board the train and find your seats. How to find your seats?
Ticket offices
3 ticket offices on 1F
Do you need to collect paper tickets?
Since Dec 2019, the electronic tickets have been available on most high-speed and bullet train routes from or to Kunming Railway Station.
It means international travellers can show their passports, likes Chinese ID to check in and board the train directly, and don't need to collect the paper tickets at ticket office.
How to check in the train by E-ticket? Please click on here to get Guides.
If you still need to pick up paper tickets, please click on here to get Guides.
Arrivals
Step 1: After get off your train, follow direction signs to exits. And please show your passport and confirmation No.(or paper ticket) to station staff to check out.
Step 2: Leave Kunming Railway Station by metro line 1, bus, taxi or car. Taxi is mostly recommended.
Food and Retaurants
There are some fast food, Chinese food and restaurants on 1F and 2F, such as Dicos, Yunan Mixian.
Free WIFI
The passenger can use Kunming Railway Station free WiFi access by their mobile phones or laptops in departure hall and transfer hall which WIFI network name is KM_WiFi. Now Moblie Phone SMS is served for more than 220 countries phone numbers, including USA, France, Canada, United Kingdom, Germany, Australia, Singapore, Japan ect.