Beijing Daxing Airport(PKX) Terminal Guides
There is only one terminal at Beijing Daxing International Airport(PKX). The terminal building is one of the largest single-structure airport terminals in the world, with an area of more than 700,000 m2 (7,500,000 sq ft). It consists of a central hub with six curved spokes.
The terminal has 7 floors. The deparutres are on 2F, 3F and 4F. The transfers are on 2F. The railway station and subway station are on B1 floor.
By the end of August 2020, 19 domestic and international airlines have been moved to Beijing Daxing Airport, including China Eastern Airlines, China Southern Airlines, British Airways, FINNAIR, LOT Polish Airlines, Malaysia Airlines, Air Macau, etc.
China Domestic Airlines
| Airlines | Check-In Counter | Phone |
| --- | --- | --- |
| China Southern Airlines, CZ | | +86 95539 |
| China Eastern Airlines, MU | | +86 95530 |
| Air China | | +86 10-95583 |
| Chongqing Airlines, OQ | | +86 95539 |
| Ximane Airlines, MF | | +86 95557 |
| Capital Airlines, JD | | +86 95375 |
| Hebei Airlines, NS | | +86 31196699 |
| China United Airlines, KN | | +86 400102 666 |
| Juneyao Airlines, HO | | +86 95520 |
| Donghai Airlines, DZ | | +86 400 0888 666 |
| Loong Air, GJ | | +86 571-89999999 |
International Airlines (Including Hong Kong, Macau China and Taiwan District)
| Airlines | Check-In Counter | Phone |
| --- | --- | --- |
| Air Macau, NX | | +86 10 65158988 |
| British Airways, BA | | +86 400 881 0207 |
| FINNAIR, AY | | +86 400 886 3350 |
| LOT Polish Airlines, LO | | +48 22 5777755 |
| Malaysia Airlines, MH | | +86 10 6505 0341 |
| Royal Brunei Airlines, BI | | +86 10 58797668 |
| RAM Royal Air Maroc, AT | | +86 10 8103 9712 |
| Himalaya Airlines, H9 | | +977-1-4004000 |
Terminal Layout
5F level
Restaurants and foods area, including Quanjude Roast Duck restaurant and KFC
4F level
International Departures: Check in, Health Quarantine, Security Check, Customs Inspection, Immigration Inspection
Domestic Departures: Check in
Restaurants and foods
3F Level
Domestic Departures: Check in for First class, business class and Cardholders, Security Check
First Class and Business Class Lounge for China Southern Airlines and China Eastern Airlines
International Flights Waiting and Boarding Gate
Restaurants and foods
East Pacific Passenger Lounge in International departure
2F Level
Domestic Flights Waiting and Boarding Gate
Domestic flights arrivals: Baggage Claim
Domestic Transfers
International Arrivals
International Transfers (Health Qurantine, Customs Inspection, Immigration Inspection)
144-HOUR VISA-FREE TRANSIT counter
Taxi Drop-off Areas, Hourly Parking, Online Car-hailing
Restaurants and foods
Aerotel Beijing entrance at Northeast Pier
1F Level
International flights arrivals: Health Quarantine, Immigration Inspection, Baggage Claim, Customs Inspection
Waiting and Boarding Gate at Remote Stand, including domestic and international
Airport Bus and Coach Station, Taxi Pick-up Areas, Parking lots
Restaurants and foods, including KFC and Starbucks
Aerotel Beijing entrance at Northeast Pier
B1 Level
Daxing Airport Railway Station, Subway Station of Airport express( Daxing Airport Line) , Check in and Security check for domestic flights
B2 Level
Subway Platform
Terminal Map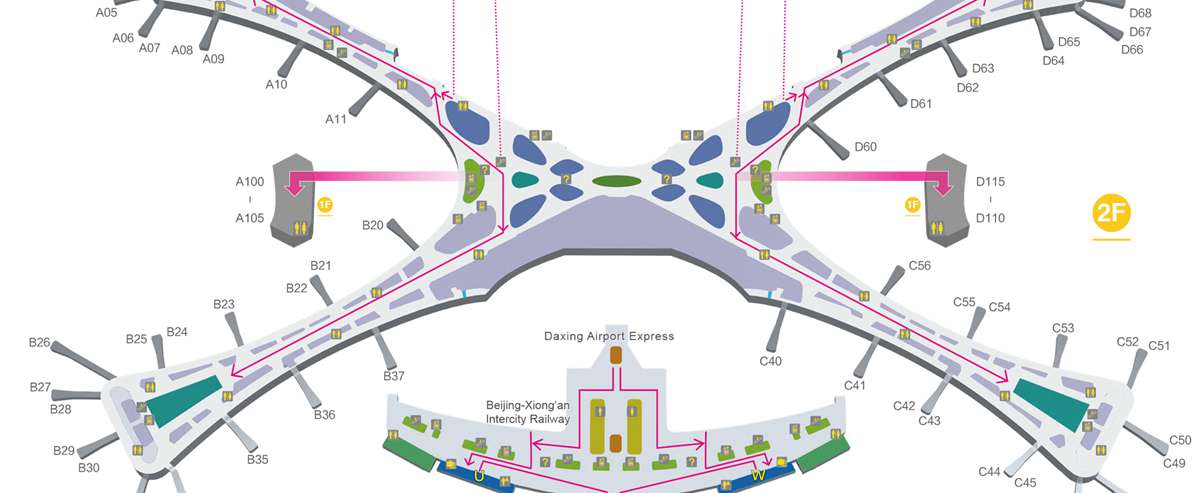 Terminal and Map
Departures, Arrivals and Transfers
Airport Transports
Passenger Service
Traffic
Have a question